You have not accepted cookies yet
This content is blocked. Please accept marketing cookies. You can do this here.
When Dan Zuck was considering meaningful ways to engage people and make more connections in his office, sustainability seemed like a no brainer. A career geologist and environmental scientist based in Syracuse since 2005, he was already in the habit of sharing what he'd learned on the topic of going green. So why not try bringing his best practices from home to work?
Best practices, indeed. Over time, Dan's commitment to earth-friendly initiatives have helped to build an award-winning sustainability culture in his office. And it all started with the Arcadis Sustainability Champion initiative.
Paving the way for sustainability
In 2012, Dan became one of the Sustainability Champions for the Syracuse location. He'd had plenty of practice recycling and composting at home, but large boxes of disposable forks, knives and spoons at work were the norm and it just didn't make sense to Dan.
"It dawned on me," he says. "Why are we using such a wasteful product when we could purchase sustainable options like stainless steel forks and spoons and get a low-cost dishwasher?" Dan calculated the cost to make the switch to reusable flatware and dishes and won approval for the purchase. He researched different brands of dishwashers and found that while compostable kitchenware options for everyday use weren't a cost-effective alternative, the office could justify having them as backup for large-scale company events.
Doing the analysis took time, he says, but sharing the numbers with decision makers made a difference. In a presentation to the purchasing and real estate teams, Dan showed that the cost benefit of reusable place settings and a couple of dishwashers would kick in between 12 and 18 months, while long-term savings from water and electrical reductions after buying a dishwasher could take two to three years. And the changes wouldn't just affect the bottom line. The office would be reducing its carbon footprint too. He estimated a reduction in plastic of more than 2,300 pounds per year! "I remember the specific moment when I began to extrapolate how much waste I would be removing from landfills," Dan says. "I was driving home, and I was elated! I was so happy because this would have a real impact. I made a moment of change."
Starting a movement
He didn't stop there. Dan coordinated with local waste haulers to collect coffee grounds for composting. The feedback he received from employees – like wanting to add general food waste to the weekly collection – resulted in an expansion of the program and the potential for keeping more than 10,000 pounds of waste out of landfills annually! By this time, Dan had his eye on a new milestone. The Onondaga County's Blue Ribbon Recycler Program has recognized 65 sustainable businesses over the years. Dan identified additional areas of improvement before program representatives performed an assessment audit of how the Syracuse office uses paper, separates waste and recycles batteries. The office received the distinction of Blue Ribbon Recycler in 2015 and again in 2018. He plans to apply for the ribbon later this year.
Dan says that because the Arcadis Sustainability Champion program rolled out right around the same time he was coming up with his own initiatives, he was able to use that as a platform to share ideas with leaders in other U.S. offices, solicit suggestions from employees and get a lot of people involved. It also helped that the changes they made in Syracuse were incremental. "There's this threshold where people accept the idea of sustainability and if you push too far, then people start pushing back on it and you end up with less involvement then before," he says. "You never want to go too far with what makes sense."
A holistic way of life
Outside of work, Dan's life is about as sustainable as you can get. From installing LED lighting in his home, and power plugs in his garage for the next phase of electric vehicles, to enrolling with Tesla solar energy, he walks his talk. The family has a large garden in the backyard where Dan teaches his children about growing, freezing and dehydrating the food that sustains them throughout the year. He supports local business, buys organic and stays away from red meat.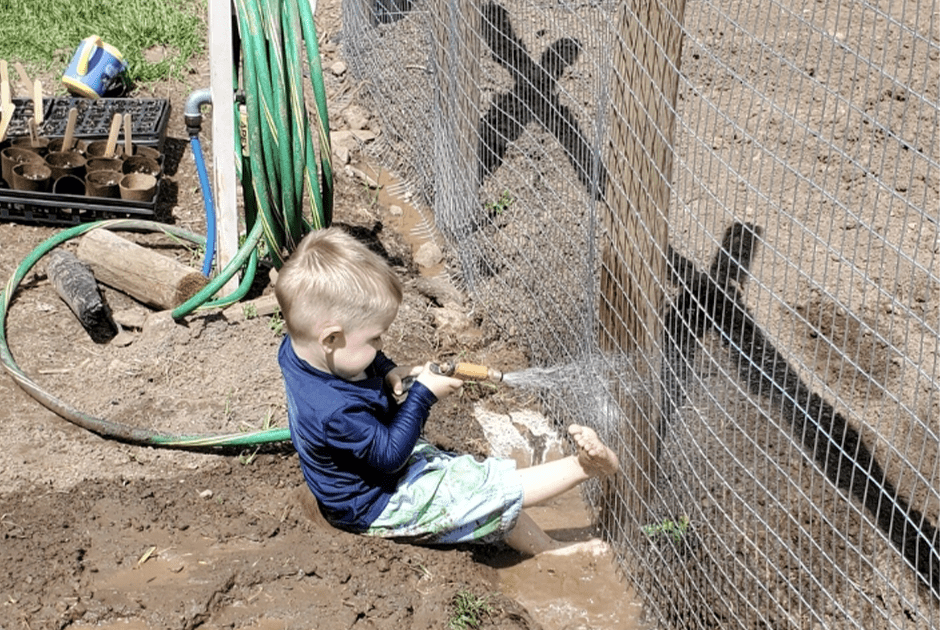 Dan's all in – but he didn't do it all at once. Watching a video online led to exploring additional resources that have enabled him to educate himself over time. He suggests people interested in making a change, at home or at work, do the research, find what works for them and take it slow. "Try to find your own path," he says. "Start by changing out your lightbulbs and looking at your food products and from there you can take bigger steps. It starts to snowball."
Arcadis is committing to achieve Net Zero through our operations by 2035. Learn more about our Net Zero commitment here.