You have not accepted cookies yet
This content is blocked. Please accept marketing cookies. You can do this here.
Climate Change Business Journal (CCBJ) has recognized Arcadis with a 2020 Business Achievement Award for climate change adaptation and resilience, specifically honoring the organization's partnership with tech start-up Irys to engage communities through a digital platform to inform more equitable and inclusive resilience strategies.
Arcadis and Irys have partnered since 2019 to develop a community engagement app that connects people who live, work and play in a community to infrastructure planning, policy or design projects in the area. Residents can share input and feedback, complete surveys, receive event notifications and access project materials through the platform. When the pandemic began in 2020, the partners also updated the platform to gather COVID-relevant data for self-screening, resource tracking and reporting. The team has launched the community engagement app on climate change adaptation and resilience projects in the U.S.
"People who live, work, play and visit communities know their needs best. By working with Irys, Arcadis facilitates open communication between these stakeholders to help shape a more inclusive, resilient future," said Carly Foster, principal resilience planner at Arcadis.
In addition to the climate change adaptation and resilience award, Arcadis was also recognized for growing its low carbon energy practice, specifically through the expansion of its sustainable urban development and energy transition capabilities. In 2020, Arcadis acquired Over Morgen, which excels at providing integrated, innovative sustainable solutions with a focus on sustainable energy strategies, sustainable mobility, energy transition, smart cities and sustainable urban development. Together, Arcadis and Over Morgen combine their respective strengths to assist clients in creating sustainable environments.
Arcadis will accept the awards as part of the CCBJ's virtual award ceremony on March 12. Learn more about the partnership with Irys here.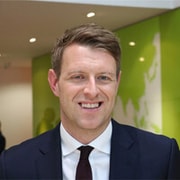 Connect with
Chris Wiggan

for more information & questions.
Chris Wiggan,

Head of Corporate Communications Contact Chris