You have not accepted cookies yet
This content is blocked. Please accept marketing cookies. You can do this here.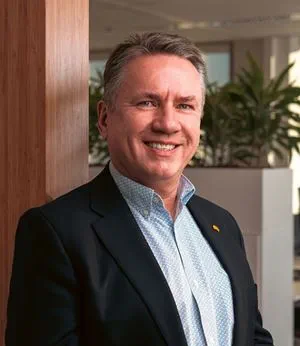 Alan Brookes
Dyrektor generalny i przewodniczący zarządu
Obywatelstwo brytyjskie, 1961
Główny Arkadyjczyk. Ludzie są dla niego najważniejsi. Pasjonat znajdowania rozwiązań dla globalnych wyzwań. Odgrywa swoją rolę w ochronie planety i poprawie jakości życia.
Alan urodził się w Chester w Wielkiej Brytanii. Mieszkał i pracował za granicą w Azji, ale jego domem jest teraz Warrington, nieco ponad pół godziny drogi od miejsca, w którym dorastał. Jest żonaty i ma czworo dzieci - które są teraz (młodymi) dorosłymi - i jest "emerytowanym" piosenkarzem amatorem i miłośnikiem wszelkiego rodzaju muzyki.
Alan został mianowany dyrektorem generalnym Arcadis w maju 2023 roku. Współpracuje z i kieruje ponad 36 000 utalentowanych Arkadian w ponad 70 krajach, którzy są zaangażowani w poprawę jakości życia.
Swoją karierę rozpoczął jako geodeta, a następnie przewodniczył firmie Povall, Flood and Wilson, która ostatecznie została przejęta przez EC Harris w 2000 roku. Alan pomógł przekształcić firmę w globalną potęgę, przenosząc się do kierowania działalnością azjatycką w 2011 roku i został członkiem zarządu EC Harris. Kiedy EC Harris została przejęta przez Arcadis, Alan nadal kierował oddziałem w Azji, wspierając przejęcie Langdon i Seah, a następnie powrócił do Wielkiej Brytanii w 2014 r., aby zintegrować firmy w jeden zespół Arcadis.
W 2019 roku Alan został powołany na stanowisko Group Executive, aby kierować firmami w Wielkiej Brytanii, Europie i na Bliskim Wschodzie o przychodach 1,2 mld euro, zatrudniającymi 12 500 osób i działającymi w 14 krajach. W 2020 roku Alan został globalnym dyrektorem operacyjnym i kierował rozwojem globalnej struktury operacyjnej Arcadis - struktury, która przygotowuje Arcadis do odniesienia sukcesu w szybko zmieniającej się przyszłości.
Jest przekonany, że najważniejszym aspektem jego roli jest uwolnienie potencjału osób pracujących w Arcadis, aby mogli nadal poprawiać jakość życia i pomagać klientom w ich największych wyzwaniach.
W tym celu Alan pomaga odkrywać nowe podejścia wykorzystujące wiedzę ludzi i technologię do dostarczania innowacyjnych rozwiązań cyfrowych, które pozwalają klientom wyprzedzać konkurencję. Jest również bardzo osobiście zaangażowany w realizację celów Arcadis na rok 2035 w zakresie zerowej emisji netto, a także w dostarczanie wiedzy i porad Arcadis jako siły napędowej dla dobra planety. Od 2014 roku Alan przewodniczy i aktywnie angażuje się w działalność Crash, brytyjskiej organizacji charytatywnej działającej na rzecz bezdomnych w branży budowlanej.
Alan chce zbudować jeszcze bardziej zróżnicowany i inkluzywny zespół w Arcadis. Wierzy, że pochodzenie i doświadczenie są tym, co czyni Arcadis interesującą i dynamiczną firmą - ostatecznie wnosząc do niej różne pomysły i rozwiązania. Jest przekonany, że każdy w Arcadis powinien czuć się włączony, mieć poczucie przynależności i poszanowania praw człowieka.
Alan pasjonuje się poprawą jakości życia, poszukiwaniem dobra w złym i promowaniem rozwiązań tworzących lepszy świat.