You have not accepted cookies yet
This content is blocked. Please accept marketing cookies. You can do this here.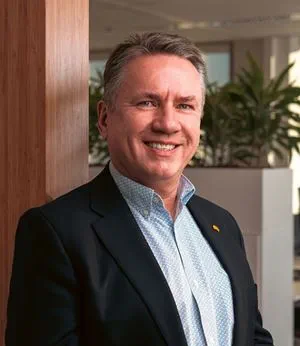 Alan Brookes
Chief Executive Officer
Britse nationaliteit, 1961
Werkt gedreven aan het zoeken van oplossingen voor wereldwijde uitdagingen. Draagt zijn steentje bij aan het behoud van de planeet en onze passie 'Improving quality of life'.
Alan is geboren in de Britse plaats Chester. Hij woonde en werkte in Azië, maar resideert tegenwoordig in Warrington, ongeveer een half uurtje reizen van de plaats waar hij opgroeide. Hij is getrouwd met Tracy en hun vier kinderen zijn jongvolwassen. Alan is een 'gepensioneerde' amateurzanger en liefhebber van allerlei soorten muziek.
De aandeelhouders van Arcadis gingen in mei 2023 akkoord met Alans benoeming tot CEO. Hij werkt met en geeft leiding aan meer dan 36.000 getalenteerde Arcadianen in meer dan zeventig landen en werkt net als alle anderen aan onze passie: 'Improving quality of life'.
Alan begon zijn loopbaan als toezichthouder en groeide door tot leidinggevende van de 'Chartered Surveying' praktijk. Vervolgens klom hij op tot voorzitter van Povall, Flood and Wilson, dat uiteindelijk in het jaar 2000 werd overgenomen door het Britse consultancybedrijf EC Harris. Alan hielp het bedrijf te transformeren tot een wereldspeler. Hij nam 2011 de leiding over de Aziatische markt en werd lid van de raad van bestuur van EC Harris. Toen EC Harris vervolgens werd gekocht door Arcadis bleef Alan in Azië om te helpen bij de integratie Langdon & Seah dat ook door Arcadis werd overgenomen. In 2014 keerde hij terug naar het Verenigd Koninkrijk om daar verschillende bedrijfsonderdelen te integreren naar één Arcadis.
Alan werd in 2019 'Group Executive' en gaf leiding aan de activiteiten in het Verenigd Koninkrijk, Europa en het Midden-Oosten. Hij was hier verantwoordelijk voor een omzet van € 1,2 miljard, 12.500 medewerkers in veertien landen. In 2020 werd hij 'Global Chief Operating Officer' en leidde de ontwikkeling van de wereldwijde operationele structuur, die Arcadis in staat stelt succesvol te zijn in een snel veranderende wereld.
Alan vindt het belangrijkste aspect van zijn rol om het potentieel van de Arcadianen te ontplooien, zodat ze kunnen werken aan 'Improving quality of life' en klanten helpen bij hun grootste uitdagingen.
Alan doet dit met een combinatie van mensen en technologie om innovatieve digitale oplossingen te leveren om klanten voor te bereiden op de toekomst. Hij is ook in hoge mate persoonlijk betrokken bij de klimaatdoelen van Arcadis voor 2035 en hij weet de expertise en advies van Arcadianen in te zetten bij de bescherming van onze planeet. Sinds 2014 is Alan ook voorzitter van de Britse liefdadigheidsorganisatie van de bouwsector Crash om daklozen te helpen.
Alan wil een nóg diverser en inclusiever team bouwen bij Arcadis. Hij vindt dat achtergrond en ervaring Arcadis tot een interessant en dynamisch bedrijf maken - waarbij uiteindelijk verschillende ideeën en oplossingen samenkomen. Hij zet zich in voor inclusie bij Arcadis; een gevoel van verbondenheid en respect voor mensenrechten van iedereen.
Alan heeft een passie voor het verbeteren van de kwaliteit van leven, waarbij hij zich richt op het positieve en een voorvechter is van oplossingen die de wereld verbeteren.