You have not accepted cookies yet
This content is blocked. Please accept marketing cookies. You can do this here.
Le nostre iniziative di coinvolgimento degli stakeholder sono incentrate su inclusività e trasparenza. La nostra rendicontazione non finanziaria è guidata da questi stessi principi, in conformità con la direttiva UE sulla comunicazione di informazioni di carattere non finanziario e sulla diversità.
Il Global Compact delle Nazioni Unite
Nell'ambito dell'impegno assunto aderendo al Global Compact delle Nazioni Unite, Arcadis rilascia annualmente una Comunicazione (Communication on Progress, CoP) in cui illustra gli sforzi compiuti per operare in modo responsabile e in linea con i Dieci Principi del Global Compact. Tali comunicazioni per il Global Compact sono disponibili di seguito.
Gli standard GRI
La Global Reporting Initiative (GRI) è l'organizzazione internazionale che ha sviluppato gli standard più utilizzati al mondo per la rendicontazione della sostenibilità aziendale. Al fine di migliorare la trasparenza verso tutti i nostri stakeholder, seguiamo gli standard GRI per le comunicazioni sulla sostenibilità. Queste comunicazioni sono comprese nel nostro report annuale integrato. Puoi consultare gli indici dei contenuti GRI di Arcadis seguendo i collegamenti.
CDP
Precedentemente nota come Carbon Disclosure Project, CDP è un'organizzazione internazionale che raccoglie dati e fornisce indicazioni per investitori, aziende e città nell'ambito del cambiamento climatico, dell'utilizzo delle risorse idriche e dello sfruttamento delle foreste. La missione di CDP è sostenere lo sviluppo di economie basate su progetti a lungo termine che beneficino le persone e il pianeta. Arcadis comunica a CDP le sue prestazioni relative al cambiamento climatico e alle foreste.
EcoVadis
EcoVadis, founded in 2007, is one of the world's largest providers of business sustainability ratings, creating a global network of more than 75,000 rated companies. The methodology is built on international sustainability standards and the Sustainability Scorecard illustrates performance across 21 indicators in four themes: environment, labor & human rights, ethics and sustainable procurement.
ISO 14001
ISO 14001 è un set di standard internazionali per i sistemi di gestione ambientale. Ci aiuta a identificare, gestire, monitorare e controllare in modo olistico le problematiche ambientali, riducendo al minimo gli impatti negativi e migliorando continuamente le nostre prestazioni ambientali. Per visualizzare i nostri certificati ISO 14001, fai clic sui collegamenti di seguito.
ISO 9001
ISO 9001 è un set di norme di riferimento che stabiliscono gli standard internazionali per i sistemi di gestione della qualità. Include sette principi di gestione della qualità. Pressoché tutte le società sussidiarie di Arcadis dispongono della certificazione ISO 9001. Per visualizzare i nostri certificati ISO 9001, fai clic sui collegamenti di seguito.
Salute e sicurezza
Il nostro impegno globale in quest'ambito si concretizza in un sistema di gestione progettato per standardizzare le prassi in materia di salute e sicurezza in tutta l'azienda, permettendo tuttavia di accogliere le diversità specifiche di ogni singola nazione in cui operiamo in termini di leggi, cultura e aspettative dei nostri clienti. Per questo motivo, certifichiamo i nostri sistemi di gestione della salute e della sicurezza a livello locale. Per visualizzare i nostri certificati su salute e sicurezza, fai clic sui collegamenti di seguito.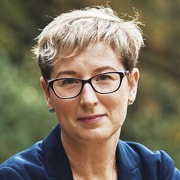 Connect with
Alexis Haass

for more information & questions.
Alexis Haass,

Chief Sustainability Officer Contact Alexis
Ci auguriamo che questa storia sia stata di tuo gradimento. Sarebbe un piacere per noi entrare in contatto con te e discutere di come possiamo aiutarti a migliorare la qualità della vita nella tua azienda