You have not accepted cookies yet
This content is blocked. Please accept marketing cookies. You can do this here.
How are manufacturers investing and building in changing markets?
Manufacturers have always had to handle a lot that keeps them on their toes, and when it comes to making investments in their production and other built facilities, industrial manufacturing executives are most challenged by the constraints on funding, the lack of available talent and increasing production costs, according to Arcadis' Industrial Capital Expenditure Survey.
With Industry 4.0 advancing as a catalyst for change in today's manufacturing industry, developments in this already dynamic and fast moving environment are expected to be more extensive and rapid than ever before.
This comes at a time when global manufacturers are already working hard to keep pace with fast changing consumer demands, due to global socioeconomic factors such as globalization, population growth and emerging market dynamics.
The world is moving towards more on-demand processes, enabled by technologies such as additive manufacturing and real time big data processing.
This all requires 'Smart Assets' that not only support and drive, but also effectively improve business performance.
This has a fundamental impact on the way manufacturers design, create, operate and eventually re-purpose their built asset portfolios, whether it be the manufacturing plant or the infrastructure that supports it.
Reaching out to over 70 leading industry experts in manufacturing across the world, the Industrial Capital Expenditure Survey provides insight into the latest trends in built asset capital project and program delivery across the industrial manufacturing sectors. Highlighting which sectors are adopting best practice, the report reveals seven key themes and trends, which best-in-class manufacturers must navigate to meet the affordability challenge and maximize the value of built assets delivered —all in the midst of a transforming supply chain.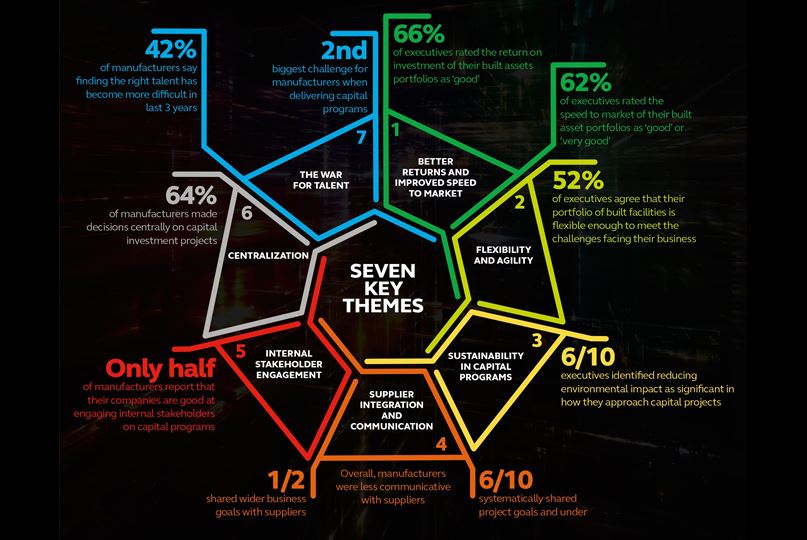 Overall, manufacturing executives were cautiously optimistic about their sector, with nearly nine out of ten (87%) stating that the outlook for their industry would either improve or stay the same over the next 12 months. Our research presented a generally positive picture for industrial capital expenditure, also. The industrial sectors are evidencing a relatively mature approach, taking a future-focused and integrated view of their built asset investments, in the context of delivering their products to market.
However, with constraints on available funds ranking as the top challenge to capital projects, it is crucial that companies learn from peers and take best practice from other sectors. The seven key research trends and themes highlight clear areas for improvement in capital planning and delivery in the industrial sectors. As industrial change and innovations come in quicker, companies must ensure they are in the leading percentiles of their sector to remain competitive, lest lose out on sales or end-user loyalty.
Our report outlines a seven-step route to success for manufacturers to improve their capital delivery and gain a competitive advantage.
How does your sector rate the performance of its portfolio of production and other built assets?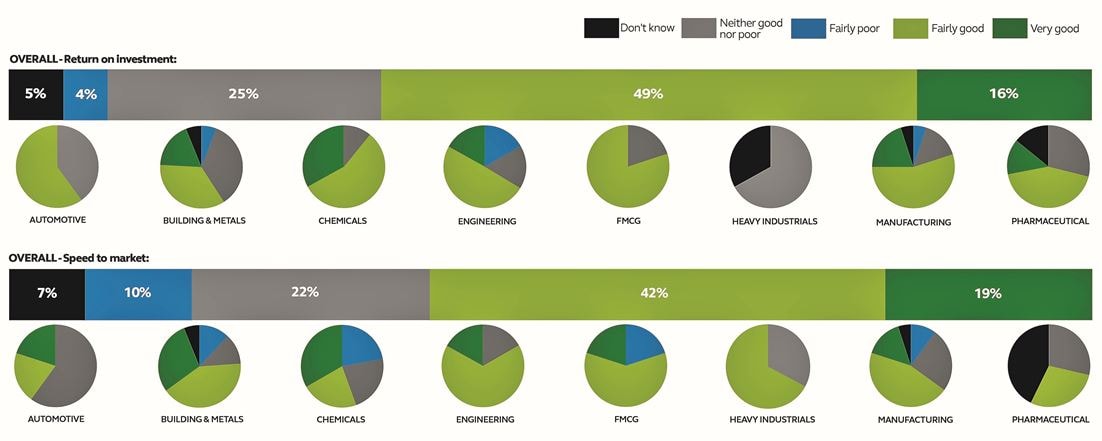 Connect with
Martijn Karrenbeld

for more information & questions.
Martijn Karrenbeld,

Global Director Industrial Manufacturing Contact Martijn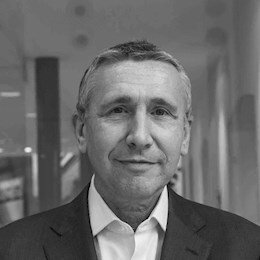 Connect with
Paul Fielden

for more information & questions.
Paul Fielden,

Global Sector Leader – Automotive Contact Paul