You have not accepted cookies yet
This content is blocked. Please accept marketing cookies. You can do this here.
To get on track for a net-zero global fleet by 2050, zero-emission vehicles need to represent 61% of global new passenger vehicle sales by 2030. By 2035, the global figure needs to be 93%, and the last ICE vehicle of any segment needs to be sold by 2038.
We help public and private sector leaders create and implement EV programs with support for every phase of the journey. Solving challenges from strategy building through execution has helped us identify what catalyzes EV adoption and successful transitions.
Electric vehicle maturity around the world
The Arcadis Global EV Index looks at countries across the world, particularly regions where Arcadis has been involved in mobility projects. The updated 2022 report includes three additional countries that we have measured progress against three key catalysts for EV adoption to examine what countries are doing well and where they could improve. It also contains a new 8 step program of factors that you need to consider for implementing a successful transition to your EV infrastructure or fleet.
Explore more Global EV Catalyst insights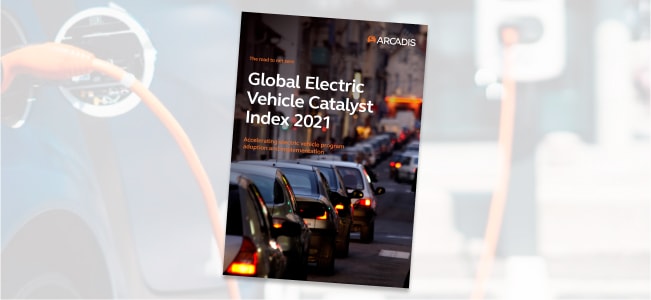 Global EV Catalyst Index (2nd Edition)
Including updated data and 3 new countries
Let's connect
If you have any questions or would like to connect with an Arcadis EV expert, please complete the form. We do our best to respond within one business day.