#WorkingFromHome and are still there for you!
Our Arcadis experts provide insight into how their work-life balance has changed.
Marian Heckl: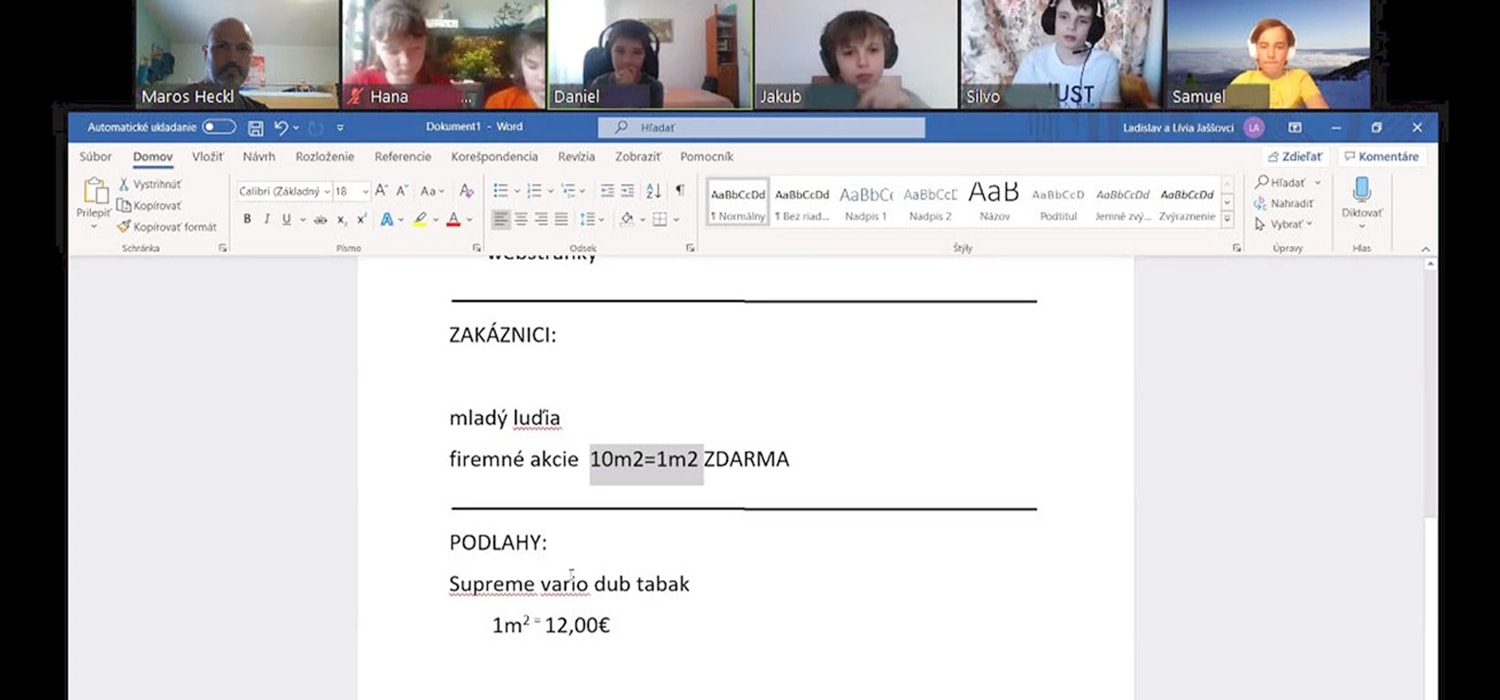 Despite the inconvenience associated with the current pandemic, we try to keep our Bratislava branch fully operational. Our entire team works mostly from home, using online platforms and cloud solutions, and is fully dedicated to working on existing projects. In addition to my regular work duties, I attended the course "Hourly Company", where I mentored children from all over Slovakia about how to do business in a real estate company in an entertaining and educating way. This initiative is organized by the agency which, in connection with the closure of schools due to Covid-19, started to organize online lessons on the internet and on television (STV1) for Slovak children. Children are able to acquire basic knowledge such as setting up and presenting the company, creating a quotation and company costs, solving specific examples. In addition to managerial skills, the children also practiced geometry, mathematics, logic, creativity and others. Children were enthusiastic, as well as other mentors - it was great to realize that the coming generation is very proficient and we do not have to worry about the future of our society.
Radka Vychronova: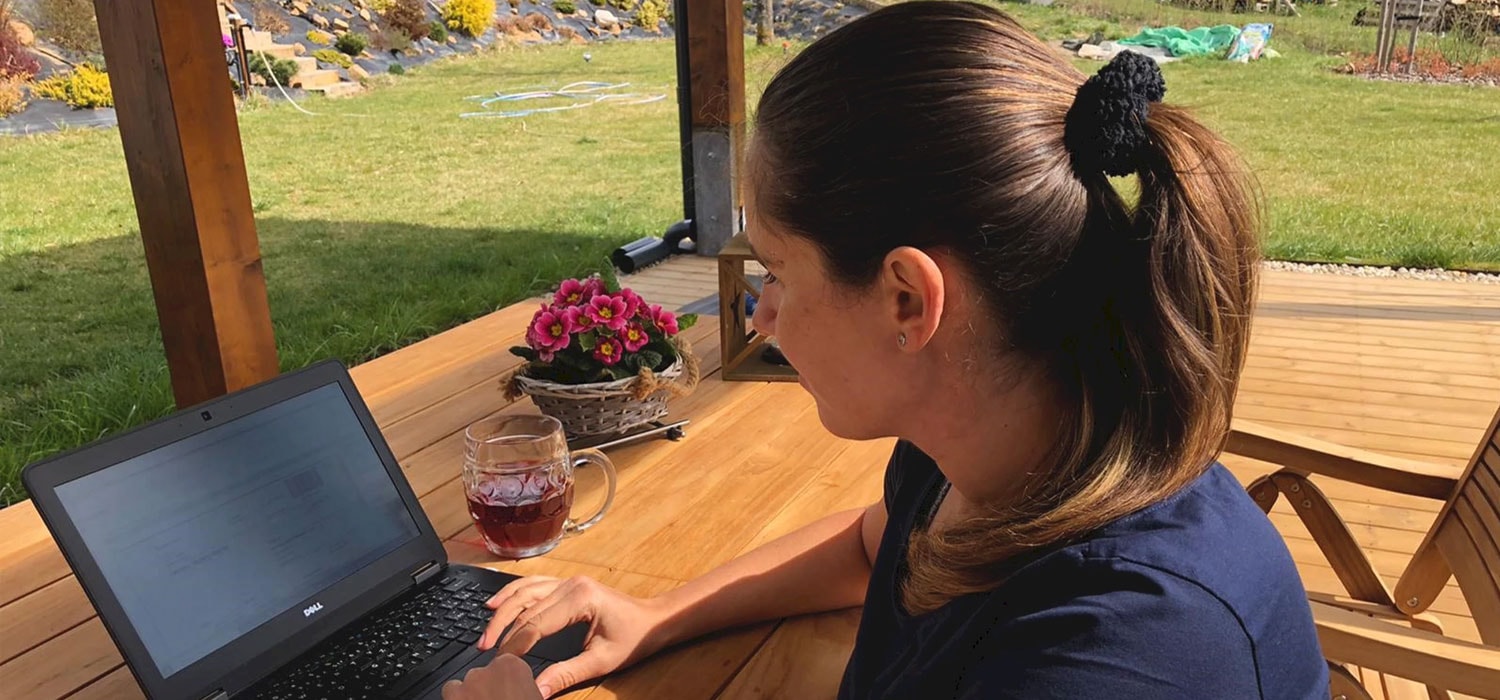 When we were told to stay at home and work from there given the current situation, my first thoughts were positive - I won't have to get up so early in the morning, commuting and get nervous with annoying morning traffic jams (I live 50km away and each ride takes me at least 45 minutes), so I will have more time to work and also to myself. At the same time, however, it began to bother me how we will cope with everything remotely as a team, how I will manage and coordinate the Finance department, and whether all tasks can really be handled. The very first days proved to be a challenge, as the Finance works mainly with accounting documents, data and the accounting system, for which it is needed to have continuous access to the corporate network, which was congested, but fortunately, the IT department quickly solved the problem. Another challenge was solving more complex problems, either within the team or at the management level. Dealing with this agenda via Skype / Teams did not seem to be the optimal solution at first, but after we started turning on our cameras on calls regularly, it turned out that even this is not really the problem. In short - although I saved the time needed to commute, the agenda associated with communication about coronavirus, remote team management, good communication and effective cooperation with the Management has been added. After all, working remotely requires a little more effort than when you come to the office at any time, where everyone is sitting and you can easily share face to face all the necessary information within a minute. Despite the fact that my agenda has been packed in recent weeks, almost every day I find a moment when I sit on our terrace and enjoy the beautiful spring weather.
Vit Stambera: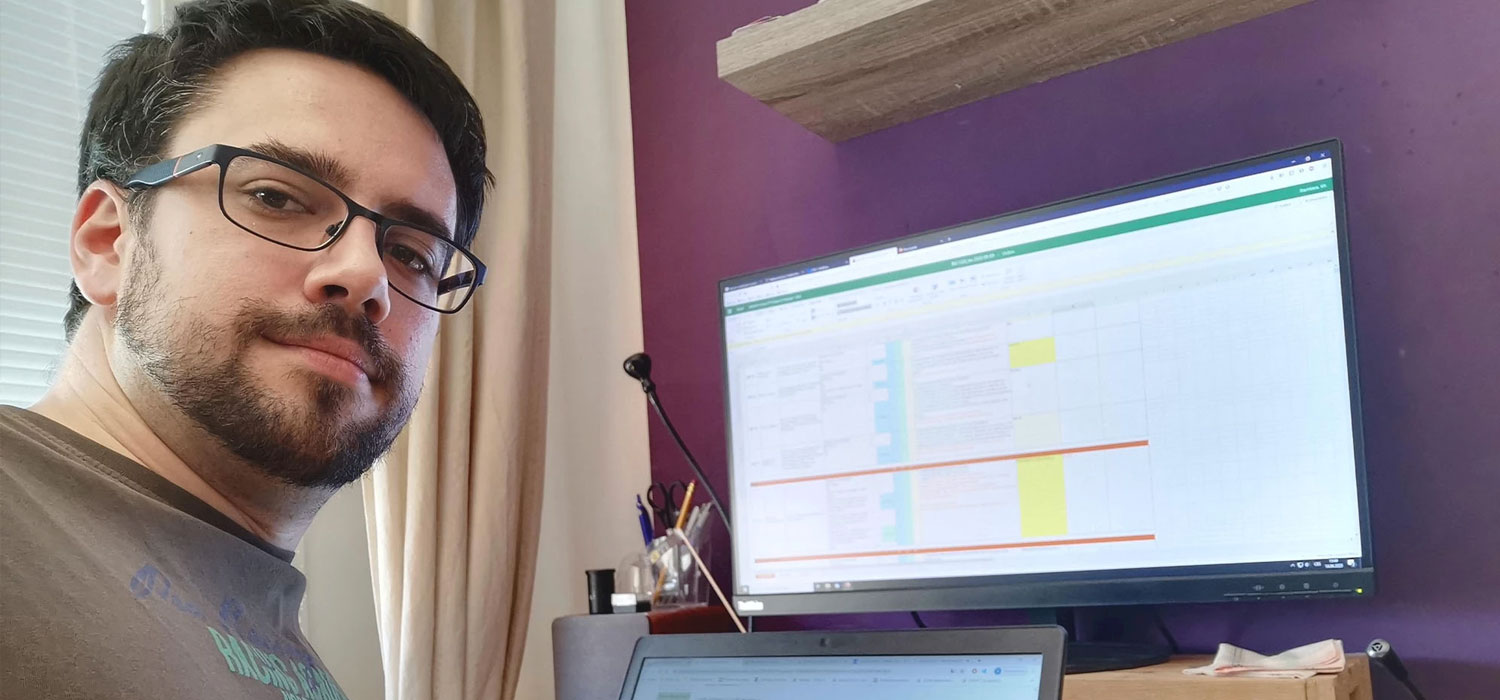 Since the quarantine started, I have been trying to strictly observe the work routine and not to unnecessarily distract by activities at home. Having no kids makes it much easier to keep this working idyll without any disruption. As for the standard projects I am going to participate in as Technical Supervisor, I do not see a change here. Most of them are due to start in about a month and are not yet much affected by the current situation. Also, for the last 2 months, I have been working on the project together with my colleagues from the Green team and all I need for that is an internet connection, so it doesn't matter if I sit in my office or working remotely at home. Regular professions inspection days of ongoing constructions have been canceled and are held only vie Skype, which is quite new to me, but it still works smoothly. When it comes to Technical Due Diligence project visits, they have postponed due to the current constraints - this could be probably called the biggest change. As I don't have to commute to the office in the morning, I usually start working around 8:00 am and end around 5:00 pm. Lunch at the restaurant was replaced by home cooking or home delivery from the neighboring pizzeria. I have to admit that working from home maybe fits me more as I have more peace of mind. On the other hand, being still locked in the same space sometimes drives me crazy. I really enjoy sports walking, besides this opportunity or shopping, I don't go out and truly hope that this unpleasant situation will soon be over.
Magdalena Sefflova: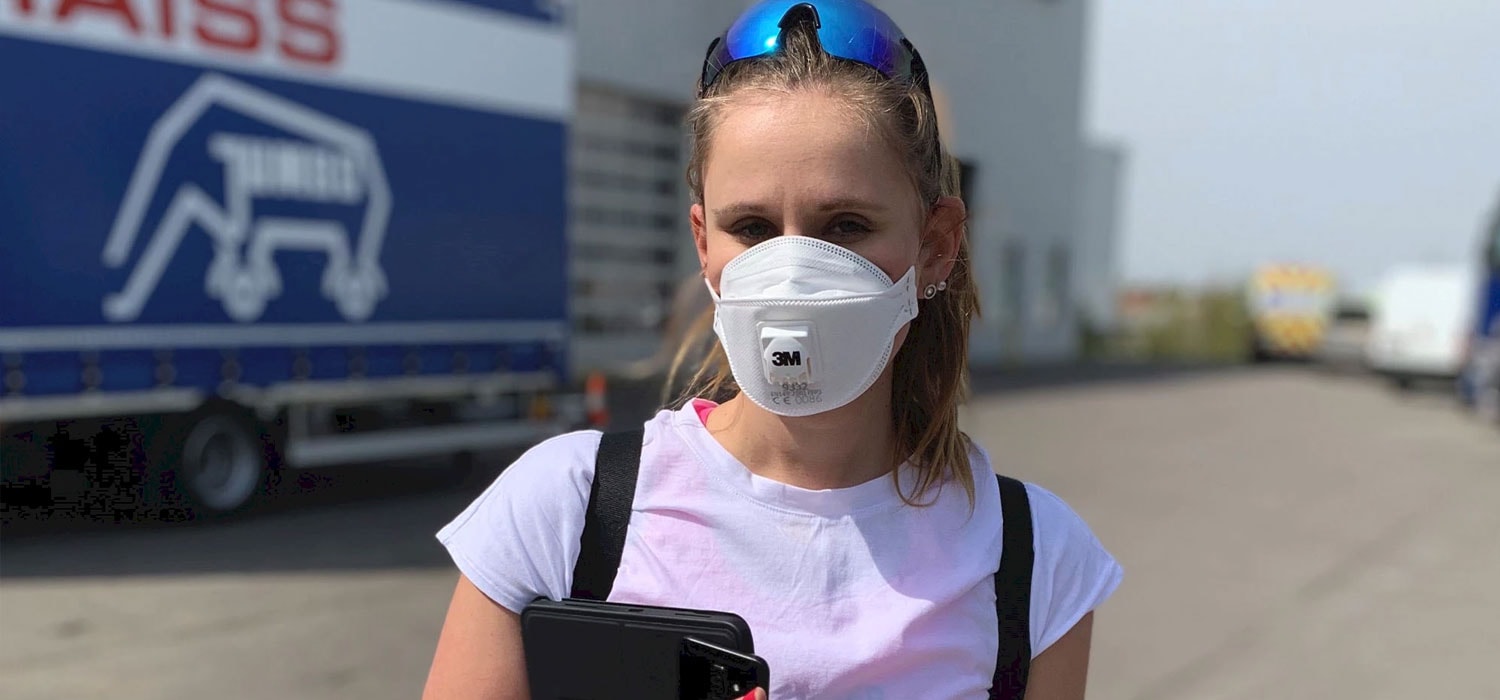 During the coronary situation, I moved my home office from Prague to Ostrava, where I currently feel more comfortable. However, I do my best to maintain daily routines and rituals, as if I were working in an office every day. I usually started my day in the pool, but they are temporarily closed. Even so, I still try to start my day actively - with yoga sessions or a short run. After the shower, breakfast and much-needed coffee, I'm ready to start working, and I really appreciate working in a T-shirt and sweatpants. At home, I created my cozy workplace with a desk, ergonomic chair and monitor, which I quickly got used to. When it's beautiful outside, I can't resist and just move the work to the balcony. An integral part of my daily routine is cycling after work, the time spent in the fresh air without a face mask is liberating for me. Our Green team works very efficiently also remotely and sometimes we have the opportunity to meet on the project construction site, but I'm already looking forward to morning coffee in the kitchenette, lunch and the necessary information in the lunar calendar shared with my colleagues
Martin Holy:
Replacing white-collar working attire with sweatpants and a T-shirt during business hours can have some relief these days. However, finding a quiet workspace designated only for you in an apartment is a much less exciting task which often includes lots of compromises, when having my family at home. Among the work on day to day basis regarding Arcadis' advisory activity on projects, I am currently managing the renovation of M&E facilities for one of our clients in one of their assets. I was on the project site just this morning to hand over tasks to the electricians in order to refurbish the light protection system. Concerning the construction industry, the current situation presents a problem with managing resources and keeping up the planned time schedule. On the other hand, a limited number of businesses in operation enabled construction companies to work without any limitation regarding working hours within areas usually filled with customers. After work, during my spare time in recommended isolation, I have devoted myself to raising our new family member or creating multimedia content.
Bara Jansova:
It is 07:00 in the morning, my alarm wakes me up. Time to start up my daily morning routine. After breakfast, I am ready to start my commute to the office. Suddenly I realized that due to the COVID-19 virus we have been advised to work from home. No commuting, no daily contact with colleagues. But looking further, no face to face contact with friends, clients. What will happen now? In the beginning, I thought working from home would be very challenging. And truly, the first few days were not easy. However, getting into a new daily routine starting with changing my clothes from pyjamas to the T-shirt with jeans every morning and setting fixed working hours over getting a daily dose of fresh air on the balcony, systematic cleaning and organizing our apartment, playing ukulele and ending with video calls with my friends or reading books has made every day productive and also special in some way. I am currently working on a programme to redevelop the dealership network. My projects are of course affected by the pandemic situation but I can support my clients online. We have managed to complete ongoing work on time and are planning on opening three newly refurbished dealerships once the situation calms down. In my free time, I would like to help my country to keep it safe with sewing protective face masks (reusing old T-shirts and sheets) for those who need them. These are challenging times, let's focus and listen to the experts' advice so one day we can get back to our normal life - healthy, relaxed, full of positive energy and grateful we are allowed to go to work.
Jiri Vasicek: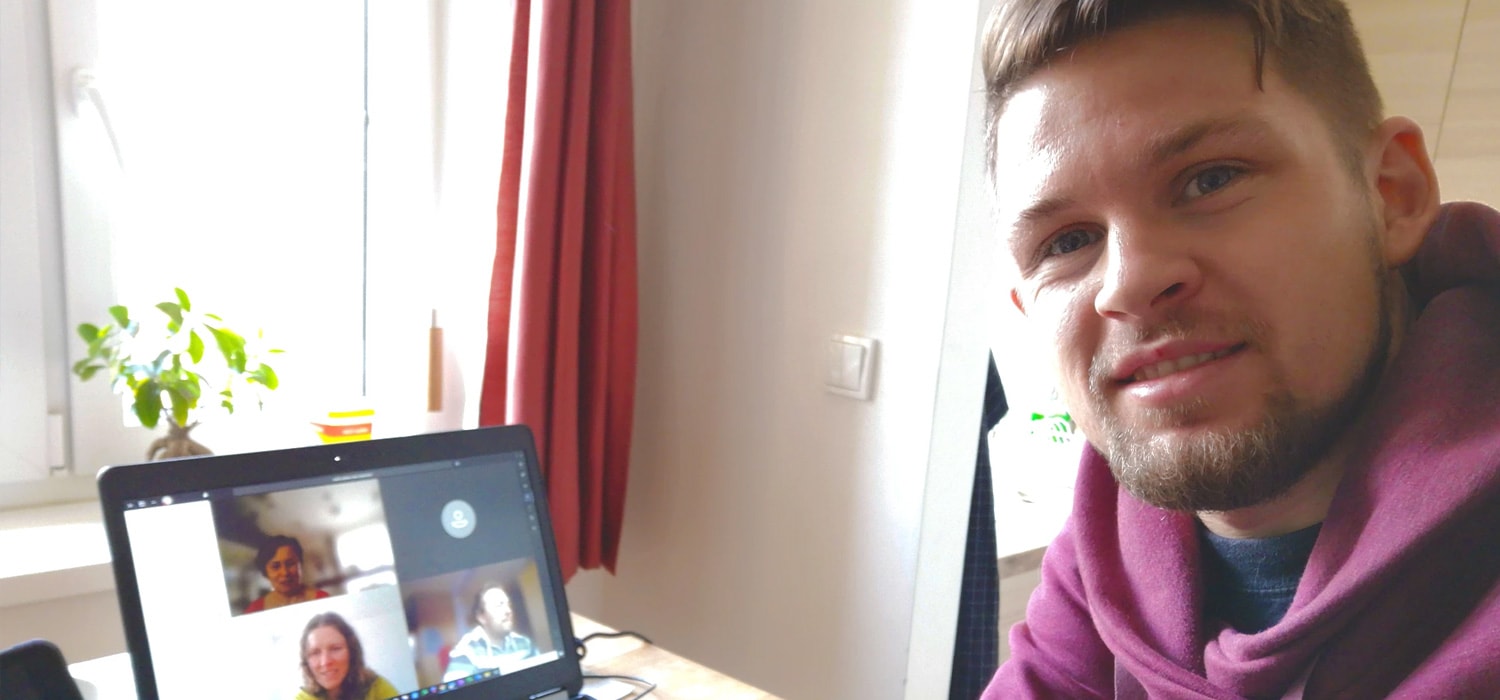 About a year ago I signed for the full Iron Man race, which takes place on 5.7.2020. Although the chances of this race being canceled or postponed are higher and higher every day, I have to train on a daily basis. Swimming pools are temporarily closed indefinitely, which means, that I have to practice swimming exercises on the ground. As I have never done this before, I consider it a challenge and not entertaining at all, nothing can replace that feeling when you jump into the refreshing pool at 6 am. When at home and working remotely, I do small exercises between individual conference calls and after my working hours, making it a great balance and calling it, 'highlights of my day´. With this home office routine, my regular morning bike or run sessions to and from work are over, but at least I can still go out running or cycling to keep myself fit. Everyone recommends slowing down so I try to listen to my body and relax. This week I took a little break because last week I spent almost 11 hours of training. In addition, a great work effort is needed, including daily on-site visits to the project in the center of Prague and weekly on-site visits to the fit-out project based in Brno. God, how I miss swimming pools.
Jana Pokorna: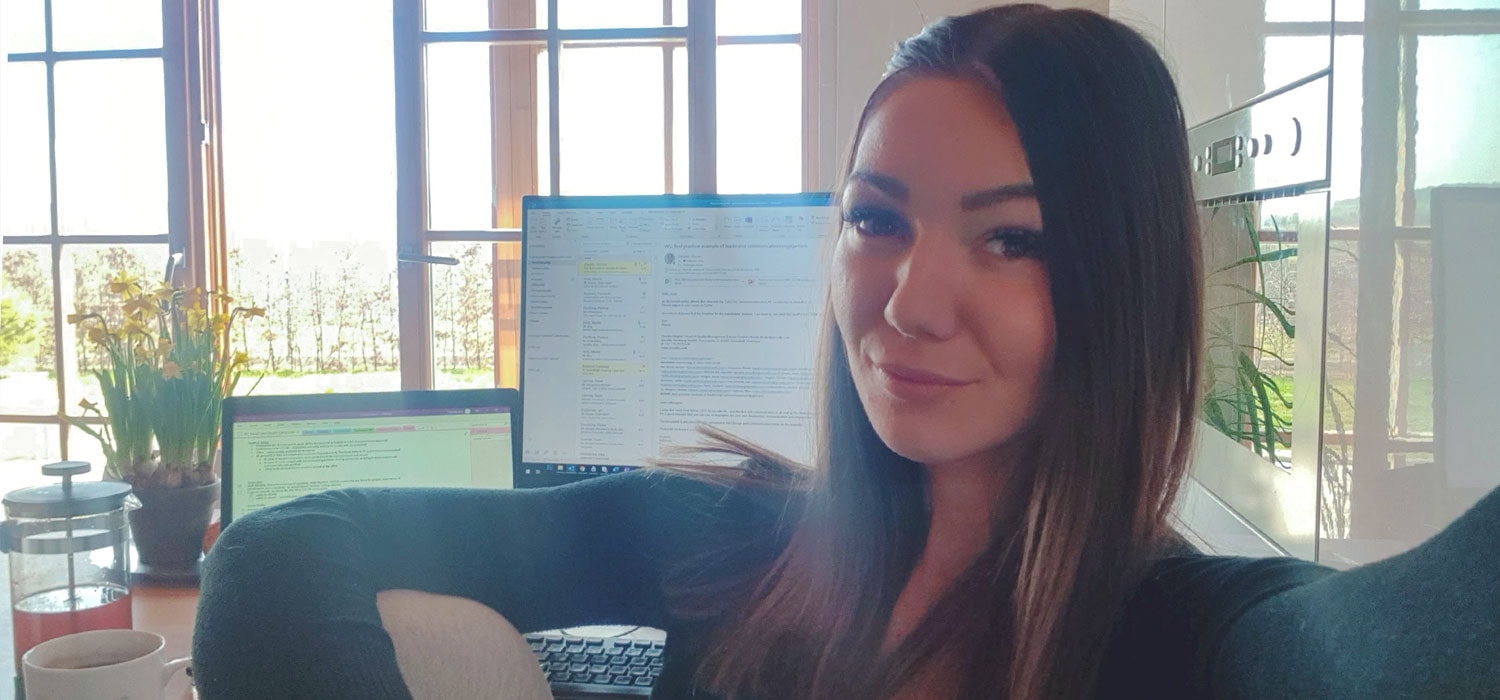 If somebody told me half a year ago that I would be working out of my house in my tracksuit, I wouldn't be able to travel and would only be able to get out with a mask on my face, I would think they were crazy. Given the current situation, I'm currently working remotely and I'm getting used to the new workspace, along with many of you. So far, I have managed to keep my work ethic and standard to the maximum, but, frankly, working from the office keeps me more focused and motivated. When having calls, I often turn my camera on so that the social distance we currently have is more manageable and it's really appreciated to see all the interactions and emotions in real-time. It is great that this digital era has brought us these possibilities and we can meet at least online. Increasingly I also read tips and tricks on how to handle home-work and not just go crazy, which I also find really helpful. I stay really optimistic and keep myself as mentally stable as possible by avoiding all the negative discussions around, stalking on social media several times a day and try to find positives for the given situation, which are not very few. In my free time, which has increased in recent weeks, I practice yoga, run, cook and bake daily, and finally find time to read as well. Personally, I think and hope that this period will soon be over, that the continuity of our business will remain as strong as possible (also with regard to health and safety) and that we will start to value things we take for granted - health, nature, friends and freedom of movement.
Sandra Turcaniova:
n my case, it's basically a standard workday - I just get up an hour later than if I went to work. Actually, 2 hours later, because I do not bring my younger daughter to school, I do not travel by public transport and save time around doing my makeup and thinking about what to wear. With the comb in hand, I turn on the PC and have breakfast while reading my first emails. In order to isolate my husband, who is also working remotely, I stole the headset from the children which perfectly mutes the surrounding sounds, so we can coordinate smoothly. When I need to solve something out of work during the day, or it is just too much to solve, I just extend my work until the evening - as I'm not in a hurry, no school club closes and homework is usually done, thanks to my mother. When it comes to the food, we bake homemade pastry and we manage the rest during a quick shopping once or twice a week in a nearby shop. After a carousel of a day, I usually pour myself a glass of wine and move to the other half of the table, where a sewing machine is already waiting, to have enough masks for my colleagues and other people in need. Until now, the extent of my sewing was making a set of curtains 9 years ago, so with every other mask, I'm improving myself. The rest of the family has already got used to the evening backdrop in the form of a sewing machine sound. In the meantime, I regularly communicate with my children, my wider family, my friends scattered throughout the country and the world - we all have different backgrounds, different situations, but we're all basically all in the same situation and we are keeping each other at least mentally fit. Our team still works perfectly. After initial problems with the VPN we managed to share large project data via the cloud and now there´s no problem to cooperate efficiently, managing all communication via Skype meetings.